If you follow
me on Instagram
, you might have seen some recent snaps of my progress with depotting the majority of my drugstore makeup items. IRL friends and IG friends alike were curious about what the heck 'depotting' was and why I was doing it, so here's a quick post about my depotting process and things that I've learned along the way!
First - what is depotting?
Simply put, you're getting the makeup out of a compact, i.e. giving the eyeshadow (or blush, bronzer, lipstick, etc.) freedom from its pot!! This practice of striping the cosmetics from their bulky original packaging has been used by makeup artists for a loooong time, but is also really practical for makeup enthusiasts (like me!) that would like to de-clutter and condense their stash. Depotting is also really great for traveling - instead of bringing along lots of different palettes, you can arrange all of your most used items into a single "freedom" style palette for a trip! Or maybe there's a particular combo of products you're really into right now - pop all of those pans into a single smaller palette, and that's all you need to do your makeup instead of multiple individual compacts. Cool, right?
the aftermath!
How do you depot?
Describing the process is simple: Heat up the glue holding the pan in place, pull the pan out, wipe it off, and ta-dah! The process itself is really easy, but time-consuming because there's a lot of waiting. I went with The Flat Iron Method because it seemed to be the least dangerous way.
[Other methods include open flames, a pan on the stove, and/or Zippo lighters?! No thanks!]
I am not the originator of depotting, but I'm happy to share some tips I learned while doing it! The first video I watched explaining depotting a while ago was
this one from Josh/Petrilude
; if you'd like a photo tutorial instead,
this one from Bun Bun
is really great ((these were my two references before switching on the flat iron)).
Depotting Tools
flat iron (duh!)
parchment paper* (to protect your flat iron from glue)
tack, or similar object for pushing things from the back
a thin blade or tool that's small enough to slide between the metal pan of the makeup and the rest of the plastic packaging
Tweezers for picking up hot things
rubbing alcohol to remove glue
paper towels, old magazines, etc. to cover your work surface
lots of time and some clothes you don't mind possibly covering in shimmery, pigmented powder and/or tacky glue!
*I recommend parchment paper over wax paper or aluminum foil just because it won't melt to the flat iron (can you imagine trying to protect your hair straightener from glue, and then melting wax paper onto it instead?!) and I feel like foil might get hot? Which isn't fun at all!
Then you just get to it! I removed most of the sticky labels from each item before plopping them onto the flat iron. How long you leave each item to warm is sort of random; some items are thicker and need to sit longer, some glues melt faster than others, etc., so you just have to go with the flow. I got into a mini self-contained factory line: I would remove all the labels from one compact while a different one was warming up, then take the warmed one off and pop the pans out of it while the one that I had just undressed got placed on the flat iron, and round and round. I also found as time went on that the best results for me were to let it warm up slightly, then stick a thin blade into the side and lift out the pan vs. waiting for the packaging to be hot enough to poke the pan out from the other side. The flat iron I used doesn't have temperature degrees on the side, but it does have 20 levels and I was fine using it at level 8 [whatever that means, right? Sorry that's not helpful for your most likely updated and normal flat iron!!]
TOOLS: tack, dull Xacto blade, orange stick, Qtips, fine point Sharpie, zinc washers for pans that aren't magnetized enough
For me the messiest//worst part is getting all the glue off! Most of the other videos and photos I've seen are like "And then you just swipe it with a Q-tip quickly with rubbing alcohol and you're done, yay!". Nope. Mine is like "Pray to god enough dust will land on this glue in the next 5 seconds so that they don't all stick to my hands, and then scrape it all off for the next 3 hours". [Not sure how/why other people have more cooperative glue? But it must just be different brands!]
this is exactly what the middle of depotting felt like -_-
I've since figured out a system that works, but generally the glue removal has taken me a lot of time (and I'm still slowly working on it). I ~neutralize~ the glue by dabbing some rubbing alcohol on it, then gently scrape starting from one end towards the other with an orange stick; then it balls up into one big hunk of glue and I can put it on a paper towel [and hope I never get it stuck on anything else again]. This method also works best for me on the pans where the glue is still sort of in a dot shape, and not just melted all over the whole back of it (another reason why you don't have to make everything the hottest it can be, you can go with making it just hot enough and that will probably work best). Just be warned that in my limited experience of playing with multiple drugstore brands, the glue stays sticky on the pan FOREVER after you get it out of the packaging; it never dries up or cools down to be un-sticky, e v e r .
messy pans still waiting for their TLC
As for the palettes, I'm [impatiently] waiting on my order from Coastal Scents to arrive! I went with the palette option that made my wallet happiest, and
this large magnetized palette from Coastal Scents
($10) seemed like the best option for me right now. There are TONS of options for magnetized 'freedom' style palettes, tho, so you can shop around and find some you like (check out the beautiful-but-tiny
Unii palette
or the
Z-palettes
). Mine are 'branded' and say Coastal Scents on the front, but I am planning to label over that part. I usually am the sort of person that has to see something (and hence would like a Z-palette), but I honestly think labeling will be enough for right now for me to remember what's where. The CS palettes are 9" x 5.9" and I'm hoping to fit a ton of things in one!!

So far I have successfully depotted many eyeshadows, some blushes, and some bronzers. I've done items from Almay, CoverGirl, L'Oreal, Maybelline, Wet n Wild, and some others, too. So far L'Oreal and Maybelline have some terrifying super-sticky orange glue, and the Wet n Wild trios have been the easiest by far to get out of the packaging AND clean up; the WnW 8-pan palettes are such a pain compared to the trios. Eventually I might depot some of my smaller cardboard palettes, like the Urban Decay ones that use tiny round pans in comparatively MASSIVE boxes, but I'm not totally ready to do that quite yet because my preciousssss. Another cool thing about the whole depotting bandwagon is that some brands sell their products in 'pan only' form, which saves you money and saves a little bit of plastic, too!


Please note
that while this method is overall safer than say, holding your plastic makeup container over an open flame, there's still lots of melty-plasticy-melty-gluey fumes SO be careful and safe! Do this in a ventilated area, don't do too much at once, pay attention to your flat iron so that you don't leave something on and melt it into a puddle etc. etc. etc. I am not an expert at melting things on a flat iron and I definitely am not liable if you get hurt doing something I simply wrote about myself doing, mmmkay?
TL;DR
I found it easiest to warm up the original packaging just enough to be able to pop out the pan; this made the glue clean up easier and quicker for me.
Waiting for it to melt enough to poke a pan out from the back usually takes way longer than just lifting a pan out with a thin blade, like a dull Xacto knife
The whole premise is that you're melting both plastic and glue to obtain tiny containers of highly pigmented powder - be safe and prepared! Use proper ventilation and expect to get hot, sticky, and colorful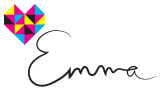 *This blog utilizes Skimlinks to monetize retail links. I don't recommend things on the blog unless I truly like them and use them myself, pinky promise!