OH, hey, it's half-way through November! But I still wanted to share my October faves with you anyway. Did anyone else feel like October was gone in a blink of an eye?! Clearly I did! I just moved to Miami, Florida with my man friend (boyfriend, hopeful life partner, guinea pig co-parent, etc.) from Atlanta so it's been sort of a whirlwind of "What if we put the couch on THAT wall instead?!" and "Omg, isn't this rug cute?" and "Why do we still have boxes that are unpacked?! We need more closets!" [those are all my statements btw, he's more like "Why...?"]. Leaving the Metro Atlanta Beauty Blogger group was really sad for me, but luckily The Digit-al Dozen has really been stepping up our internet presence and we've all grown a lot closer as internet Facebook friends. Yay!
1.] Favorite new (tried) polish:
Definitely Cult Nails Grunge! I haven't used it in a full manicure yet, but you can see it used a little in
my Busy Spider-y Halloween mani
. It's a shade I didn't know I had to have until I got it :)
2.] Favorite new (tried) indie:
Probably the Pahlish Fall duo (
see my swatches here
) - The Dust Witch is such a brilliant fall-but-not-typical-fall glitter topper!
(clockwise from top left: Grunge, Wax That, Fetish, Be Loco, Party TimeWack Slacks)
4.] Favorite new polish collection: Does the Cult Nails Midnight Masquerade count? I ask because it's already sold out so I feel a little bad being like LOOK AT THIS MAJESTIC TINY COLLECTION, but I'm clearly enthusiastic about it (and it should have been delivered today, yay!). I want to take this opportunity to say - hey polish people, let's keep doing these slightly smaller collections!! I love that it was three polishes and not 6 or 15 or 20 => totally justifiable and affordable purchase. Also hella pretty!
My favorite October
post
is almost all of them? I really enjoyed skittle week - like the
denim nail art
, and the two Halloween nail arts (
dots
and
spiders
) but in the end my favorite is probably
the all Cult Nails skittle set
pictured above. I just really liked the weird mix of colors and finishes :)
October
Beauty:
I'm still on the 'grungy smoked out bronze/gold eye with red lip' situation. I've also done some very scientific research* and have realized that I am a HUGE fan of the Milani eyebrow powder kit. It doesn't wear off or smudge or look (as) weird at the end of the day as my previous eyebrow method - using the Wet n Wild ColorIcon pencil in Taupe.
*Scientific research = wearing one thing one day, and then the other the next day and saying "This one is better"
For my
October Entertainment
I've been watching pretty much every show the CW makes. I just can't help it! I love them so much! I'll be a tween girl at heart for the rest of my life >.< Like seriously, I am OBSESSED WITH REIGN. Is anyone else watching it? Can we gossip about it please?!
Favorite blogging moment/milestone:
A lot of really exciting brands that I love and adore have reached out to me at the end of October about working together AND I finally got into the BlogHer Publishing Network!!! So I feel like all my hard work typing and practicing taking photos of my hands have been paying off recently. It's goofy, but I love love love blogging and I am so happy that I still feel so enthusiastic (this time of year I usually hit a slump, but maybe the move to super sunny Florida has kept me out of it, since I'm still wearing shorts and tank tops every day :p) Also The Digit-al Dozen is stronger than ever - have you seen our cool website?!
My October goals were to post 3 consecutive days each week by a certain time each day AND to focus on Twitter. How did I do? I feel like I'm getting a much better hang of the whole Twitter thing! HootSuite is SUPER HELPFUL. Did I post 3 times a week? Yes, but not really at the right times. That's definitely something I want to be much more consistent about, but that's like a ~totally personal~ thing. No blog police will show and be like "Hello, this is not at the right time!"
November Goals
Post at relatively the same time for the rest of November (ha ha ha)

Be more awesome at Instagram! I don't post there consistently enough, but I should

Comment a little more frequently on other people's cool blog posts
I also changed the blog layout in October, which is always exciting for me personally, but I change it so often I don't really bother making too much of a big deal about it. My Mom always has strong opinions about it tho, which I enjoy chatting with her about :)
Now I'm curious, what were your favorite things about October?! Are you still all about pumpkin things, or have you moved onto the pepperminty things?
PS. Not sure why all of the words are in different fonts in this post?! It's driving me insane but is also too challenging for me to fix right now (not because it's hard, because it's time confusing and whyyyy)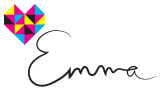 I always enjoy reading 'favorite things' or 'wrap up' posts because it's so fun to see what other people like & get to know them a little bit better. If you'd like to see all of the 'My Favorite Things' posts, click
here
!