Rainbow Honey's complex fall 2013 collection entitled The Final Battle is inspired by the video game Final Fantasy VII. I have to admit that I have not played the game (unfortunately not a video game buff over here), but I at least have heard of it before AND it was the theme of one of our marching band shows in high school. Much like with other recent RH collections, this one is divided into three different parts - an idea I love because it seems to provide a lot more variety, and can be a little easier on the wallet depending on your polish finish preference! I'll explain a little more about the different parts with each swatch because I have one polish from each category to share with you today.
(Press Sample)
I swatched everything with butterLodon's Nail Foundation as my base coat and Zoya Armor top coat if you're curious! They're arranged in the same order as the different portions of the collection - from Part I -> Part III. The formula on all of the polishes was a little thick, but I don't mind them arriving too thick vs. too thin because I can thin it down to exactly the viscosity I want (versus thin and runny). All photos were taken in indirect Ott Lite ("natural"), except where stated as different in the caption.


PART I: The Battle
The Battle plays off the main elements of the game - the heroes and the ultimate face-off between the Planet's Lifestream and the Meteor, with Phoenix Down as a nod to the recurring battle item throughout the Final Fantasy series.
Phoenix Down is a glitter topcoat "full of orange, red, white, and iridescent glitters" and I spot some light yellow hexes, shards, bar glitters, squares, plus some amazingggg tiny gold shimmer bits and a touch of purpley-pinky shimmer that catches in the light. It is loaded with glitter and it was easy to get out of the bottle - no fishing required. Some people might want less glitter (pshhh), and thus might need a few drops of thinner. This seems SO holiday appropriate and I feel like I will pull it out a lot as we get closer to Christmas. I've swatched Phoenix Down over a ton of base colors to show you how it looks with different polishes!
First up - one coat of Phoenix Down over 2 coats of Orly Pure Porcelain, a very light pale pink creme color.
Here's one coat of Phoenix Down over 1 coat of Orly Wild Wisteria, a dark blue-toned purple creme.
Finally here's Phoenix Down over 2 coats of Pure Ice Kiss Me Here, one of my favorite mid-toned grey polishes.
PART II: The Summons
The Summons depict five of the attacks used by beasts and monsters summoned in the game. From this portion of the collection I have Tidal Wave.
Tidal Wave is a "murky aqua base filled with holographic glitters and the effervescent shimmer of the great Leviathan's scales" and I would say that description is so spot on. This is stuffed with holographic glitters and it is amazing in person; check out this video of me twiddling my fingers with Tidal Wave all up on them (tbh, even that video is 'just okay' compared to how cool this is in person). My bottle was crazy thick, so I 'dabbled' my coats on to get it opaque instead of traditional painting. Then I thinned it a wee bit before layering Tidal Wave over Barry M Turquoise.
With flash, to show off the holo a little bit more (i.e. there's no red glitter in this, just different colors the holo glitters are catching in the photo). It is a gorgeous aqua color - mostly blue, a little green and I feel like the below photo is closest in color to what I see IRL
mmmmmmmmm look at the shimmer! totally looks like 'scales' from the description :)
Here's one thin coat of Tidal Wave over 2 coats of Barry M Turquoise. I think it's lovely that Tidal Wave can be layered for versatility and less glittery coverage if you want! Layering it with this particular base color renders it a lot more blue/turquoise than 'aqua'.
PART III: The Weapons
The Weapons are created by the Planet as self defense, apparently some pretty sweet bio-mechanical monsters that were huge and powerful. The 5 Weapons polishes are meant to be smooth metallic shimmers that make great bases for the many glitters in the rest of the collection.
Sapphire Weapon is a "deep navy with green and gold shimmer" and it has a jelly-ish formula. I used 2 coats for these photos because that was opaque in person (but maybe it could have used 3). The formula was a little thick on the first coat so I thinned it just a wee bit before the second coat and it was much easier to use. This is crazy pretty in person, definitely recommend if you love blues :)



BONUS: Here's Phoenix Down OVER Sapphire Weapon! So patriotic and festive, this pairing would be great for a 4th of July manicure! The bars and shards in Phoenix Down remind me of fireworks.




Pricing & Availability
Here is the break down on pricing for the new collection:
The Final Battle- Full Set: 15 colors, full size (15ml $120)/ mini size (5ml $60)
Part I- The Battle: Meteor, Soldier, Lifestream, Cetra, Phoenix Down. 5 colors, full size (15ml $45)/ mini size (5ml $20)
Part II- The Summons: Diamond Dust, Hellfire, Judgement Bolt, Tidal Wave, Tera Flare. 5 colors, full size (15ml $45)/ mini size (5ml $20)
Part III- The Weapons: Sapphire Weapon, Diamond Weapon, Ruby Weapon, Emerald Weapon, Ultimate Weapon. 5 colors, full size (15ml $45)/ mini sized (5ml $20)
Individual polishes at full size only (15ml) will be $10 each.
- - - * - - -
I really love the three shades I got to try from this collection. Tidal Wave is probably my favorite (so holo!), but Sapphire Weapon and Phoneix Down are also amazing. Rainbow Honey is such a fun indie brand because they offer such an interesting variety of polish finishes (chromes, shimmers, glitters, etc.). I did find these to be a little on the thicker side, but I find that to be preferable than arriving too thin and runny (plus then I can thin it to exactly the right consistency for me!).

Which ones do you like?! Have you picked up anything from the collection?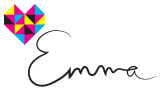 *I received a press sample for my honest review and swatching purposes. If you'd like to know more about my disclosure policies, please check out my disclosure page.